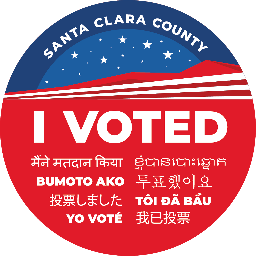 Get Ready to Vote in the General Election!
  Deadline: November 3, 2020
If you're registered to vote in California, your ballot will come in the mail! 
Under the new Voter's Choice program every registered voter in Calafornia will receive a ballot and a postage-free return envelope for the November3, 2020 Presidential (General) Election. 
For your ballot to be counted in the November 3 General Election, Vote-by-Mail ballots must be postmarked on or before Election Day, Tuesday November 3.
 For more information, visit the Santa Clara County Regitrar of Voters site.
 ∞∞∞∞∞∞